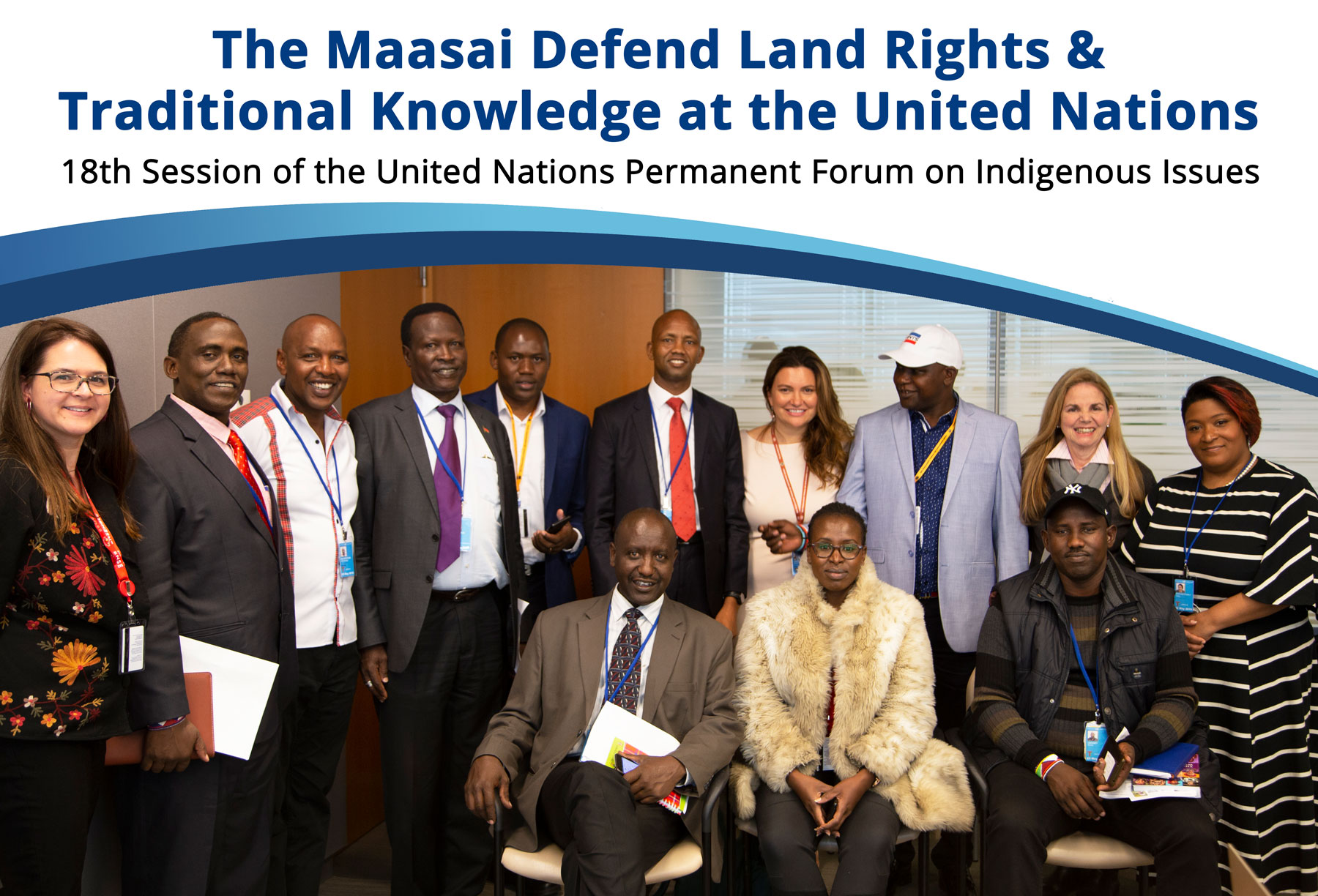 MCV was honored to once again participate in the United Nations Permanent Forum on Indigenous Rights, April 22 – May 3rd, 2019 at the United Nations headquarters in New York. It was empowering to unite with over a thousand indigenous leaders, organizations, and member states to strengthen Indigenous people's collective rights. Indigenous peoples inhabit 80% of the world's intact forests and high biodiversity ecosystems, and play a key role to the sustainable development for all humanity. This year's theme "Traditional Knowledge: Generation, Transmission and Protection" aligns with MCV's current work to establish a community-led Maasai Museum in Amboseli, Kenya.
On May 3rd, 2019, MCV hosted a side session titled "Safeguarding Maasai Heritage: Documenting Maasai Ceremonies & Traditional Knowledge."  The session was hosted by MCV in partnership with the Kajiado County Government of Kenya and the panelist included Jessica Censotti, MCV president, Hamilton Ole Parseina, Kenya Government of Kajiado County Land Planning Executive Committee Member, John Kamanga, Kenya Government of Kajiado County Cultural Task Force Committee Member and Executive Director of South Rift Association of Land Owners (SORALO), and Lesley Etherly, MCV Cultural Committee Member.
Jessica Censotti, opened the session. She welcomed all guests and thanked the Maasai leaders from Kenya and Tanzania for joining the panelist and stakeholder discussion about the modern challenges the Maasai people face to protect their land and heritage. She commended the leadership of Governor Joseph Ole Lenku and his cultural task force team for their vision and commitment to safeguarding Maasai culture to promote Kenya's national rich heritage. Censotti also announced MCV's partnership with the Kajiado County Government of Kenya to launch a community-led museum near Amboseli National Park.
The time to protect the last Maasai lands is now
Hamilton Ole Parseina has over 20 years of land planning experience in Kenya, he addressed the urgency to protect the last remaining Maasai lands in Kenya. Sadly many Maasai have been forced to leave their traditional lands, due to extractive industries, subdivision, conservation, development and other pressures, which are threatening the existence of the Maasai people and destroying the fabric of their cultural traditions.
"Maasai culture is fading very fast and unless something urgent is done perhaps it will be too late. Land subdivision is destroying the fabric of the Maasai society, causing the Maasai to lose our land and heritage." ~Hamilton Ole Parseina, Kenya Government of Kajiado County Land Planning Executive Member
Only a few community lands remain, and it is on these lands that the Maasai still dwell surrounded by wildlife, rooted in their culture, and nurtured by their land. If we want the Maasai's rich culture and people to live, we must protect the last remaining Maasai lands.
Since colonization, there has been an unrelenting push for the Maasai to be removed from their ancestral lands. Right now, the Maasai continue to rapidly lose their land and face daily coercive pressure from various outsider groups that are taking advantage of their pastoral nomadic lifestyle and legal naiveté.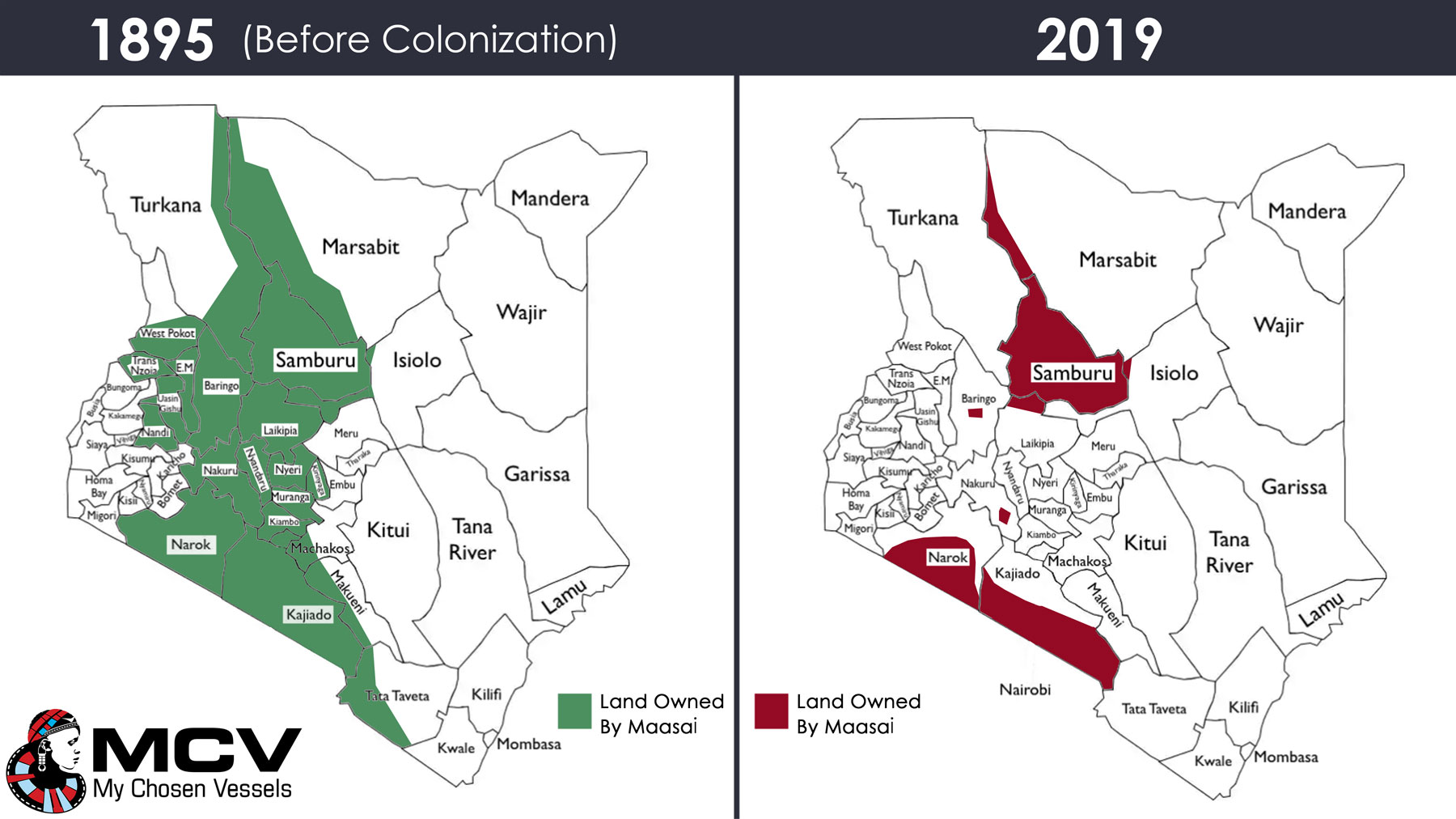 Exploitation of Maasai land
A case that was addressed at the United Nations is Magadi, an area rich in natural resources and a major grazing area for livestock production for the Loodokilani Maasai in Kenya's Rift Valley. A soda ash mining company called Tata Chemicals Magadi Ltd ("Tata"), which has been in operations since 1911 is responsible for one of the most controversial colonial ventures by taking over 224,000 acres of Maasai land. For 108 years Tata has been extracting the Maasai's natural resources while refusing to pay for the company's fair share in leasing rates and not providing fair benefits to the local community. Apart from the minerals, Tata is also using the highest share of water from Oloibortoto River for their mining operations and to serve its large employee workforce. This is the main water source for the Maasai, leaving the local community desperate with not enough water to meet their needs.
Governor Joseph Ole Lenku has joined over 5,000 Maasai locals stating:
"We demand our land rights; Tata Chemicals Magadi Ltd must give the community what belongs to the people through the payment of land rates and job opportunities." ~ Governor Joseph Ole Lenku
Many of our attendees commended Governor Ole Lenku and the Kajiado County Government officials for advocating for the rights of the people and working to ensure that the local people benefit from their natural resources and fighting against extractive companies like Tata.
The future of the Maasai people, culture and land
Today, there are only 14 community lands remaining in Kajiado County and the Maasai people and the officials that manage these lands often do not know how to advocate for their land rights or understand the long-term negative implications of subdivision and land selling. Currently, there are several community-owned lands in Amboseli that are facing the imminent threat of subdivision. Already, 39,206 hectares of land has been taken from the Maasai people to develop Amboseli National Park and the Maasai people have been removed from their ancestral grazing lands and water sources. The Amboseli ecosystem has supported the Maasai people for centuries and they are an intrinsic part of the balance of the ecosystem. As the Maasai are displaced from this land, the wildlife follows the Maasai and prefer to live outside of the park with the Maasai people; nonetheless, the symbiotic balance between the Maasai, land and wildlife, that existed for thousands of years, is breaking down.
"The Maasai people, the land, and wildlife are one. You will notice in our ceremonies we rub the red earth and ashes on our bodies to symbolize we are one with the earth. We protect nature and wildlife because it is part of us." ~ Francis Sakuda
What will happen to the wildlife and the Maasai once the last Maasai lands are subdivided and available for sale on the market? Evidence reveals that following subdivision, the wildlife, Maasai people, and their rich heritage rapidly disappears.
To safeguard Maasai culture and wildlife, land must be protected
John Ole Kamanga, discussed how land is an essential asset to sustain Maasai livelihoods and is also a fundamental spiritual element that upholds the cultural heritage and identity of the Maasai people. He revealed evidence that when Maasai communities are able to implement effective land use management plans based on Maasai knowledge it protects the critical ecosystems and biological diversity that support the livelihoods of the Maasai people, wildlife, and Maasai culture.
"If you want to save wildlife, you must also protect the Maasai people's pastoral livelihoods and our ancient traditional knowledge that knows how to protect the ecosystems we all depend on."  ~ John Kamanga, Kenya Government of Kajiado County Cultural Task Force Committee Member and Executive Director of South Rift Association of Land Owners (SORALO)
With over 10 years of experience in conservation in Southern Kenya, SORALO has developed a proven Maasai-led conservation model that utilizes Maasai traditional ecological knowledge to protect wildlife from extinction. Unfortunately, the Maasai are being removed from their land and unsuccessful conservation efforts are undertaken without the expert input of the people who have stewarded the land since ancient times.
Safeguarding Maasai traditional knowledge is urgently needed
Lesley Etherly discussed MCV's diligent work with the Maasai cultural custodians to document their ancient knowledge systems and protect them from extinction through a Maasai media team. Etherly presented MCV's documentation process that will enable the Maasai to implement their right to self-determination and to control their own cultural narrative. MCV has been working with Maasai cultural chiefs for over nine years to document the ceremonies and cultural heritage of the Ilkisonko Maasai. We are further expanding to allow Maasai cultural custodians from other areas to document their traditional knowledge for inclusion in MCV's Maasai Museum in Amboseli.
"MCV's documentation process allows the Maasai to own their narrative and improve lives through their cultural expressions. We must improve the livelihoods of the Maasai people in order to protect Maasai heritage." ~Lesley Etherly, MCV Cultural Committee Member
MCV hosted additional side meetings with Maasai leaders to strategize and further develop our plan to train Maasai Cultural Custodians to properly document Maasai heritage according to museum standards. The MCV team also attended meetings with the World Intellectual Property Organization, Land is Life, and others to discuss the importance of land in culture preservation and documenting traditional knowledge.
During MCV's side meetings, Maasai attendees across various regions addressed the need to protect the rights of the Maasai people. All of our attendees agreed that regular meetings are required in order to engage in deeper dialogue and further advance the rights of Maasai people. The permanent forum also recognized the importance of increasing the support for indigenous peoples of Africa in the annual sessions in order to facilitate the implementation of the UN Declaration on the Rights of Indigenous people; MCV is in the final stages of translating this document into Maa (Maasai Language).
We thank the permanent forum members for another important session and their commitment to addressing the emerging issues that face all indigenous people globally. MCV has already started to plan next year's 19th session of the Permanent Forum on Indigenous Issues titled "Peace, Justice and Strong Institutions: The role of indigenous peoples in implementing sustainable development goal 16" scheduled for April 13- 24, 2020. We look forward to providing a platform for the Maasai voice to be heard and hosting an art exhibition to showcase the Maasai cultural heritage which promotes world peace, indigenous knowledge and land rights to benefit all humanity.
MCV is working diligently with the Kajiado County Government in Kenya to launch the Maasai Cultural Heritage Museum in Amboseli Kenya this year. With your support, we will safeguard Maasai culture for the next generation of the Maasai and the world at large.
Together we can empower the Maasai people. Make a one-time gift today!
Donate Today
Make a generous donation today to protect the Maasai heritage and to support Maasai communities.
Help Safeguard Maasai Culture
Join Us
The only way to protect the Maasai people, their heritage and wildlife is to ensure the Maasai have rights to their land. MCV is joining with like-minded NGO's, partners and generous individuals to protect Maasai land rights. If you are interested in joining us, please email: hq@mychosenvessels.com
UNPFII 2019 Photogallery
[unitegallery UN2019]