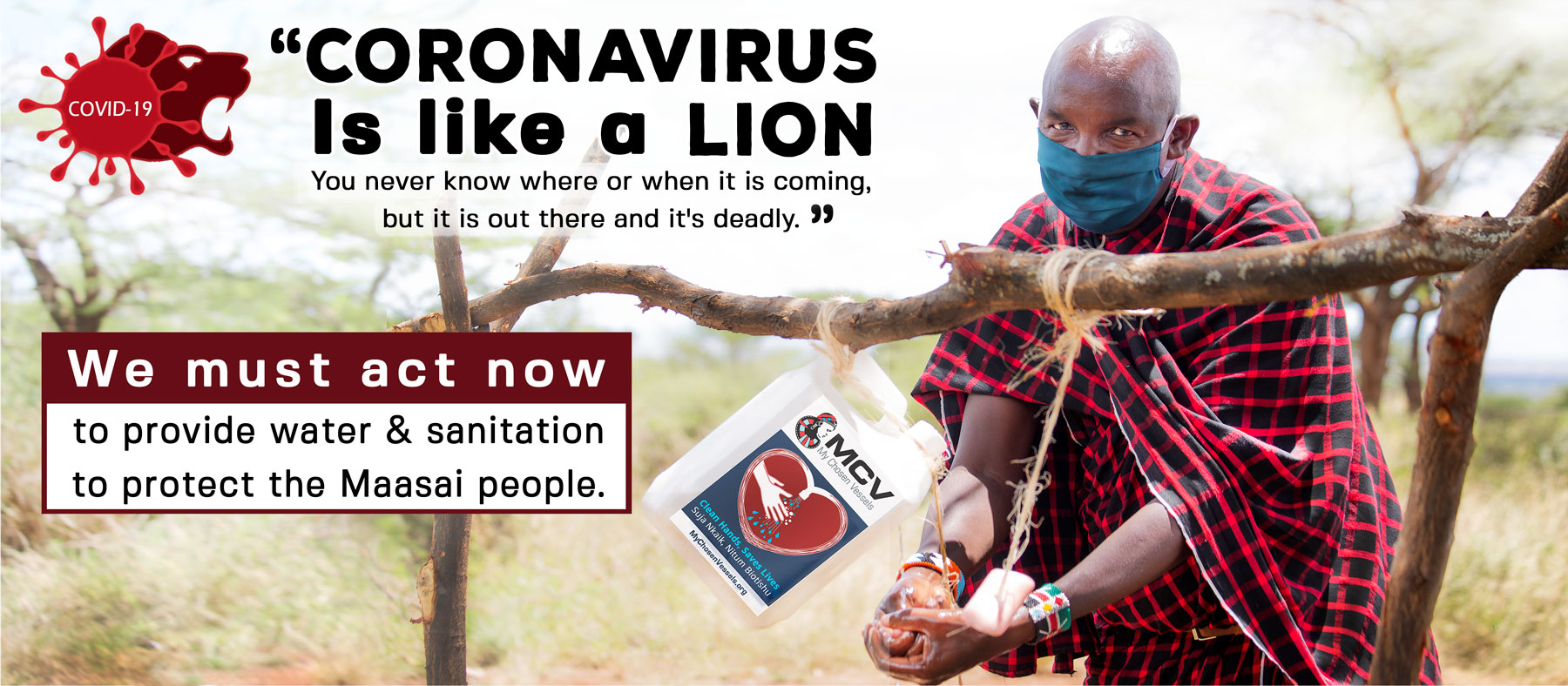 "The Coronavirus is like a lion, you never know when or where it will come, but we know it is out there and it's deadly. Now we must act quickly to protect the Maasai people by educating our communities about the importance of hand-washing and best hygiene practices as our first act of defense. I thank MCV for providing hand-washing stations, soaps, food and sanitation training to our communities." ~ Lesinet Ole Matapash
We are improving sanitation for the Maasai people & saving lives!
47 million people live in Kenya; only 59% of the population have access to basic water services and 29% to sanitary services according to the World Health Organization (WHO, 2019 Data). The Maasai living in Kenya are at an even greater risk.
For over a decade, MCV has provided clean water, sanitation facilities and hygiene training for the Maasai communities in Kenya. The water and sanitation crisis in Maasailand remains critical and MCV is committed to ensuring every Maasai family has access to clean water and sanitation.
The Maasai Work with Engineering Students to Design Community Sanitation Stations
MCV partnered with Arizona State University (ASU) Engineering Capstone and Barrett Honors College GlobalResolve program to design and implement a community sanitation station to improve the overall health of the Maasai in Kenya. ASU sent an engineering team to Amboseli, Kenya to work alongside engineering students from Masai Technical Training Institute (MTTI) and the Maasai community constructing the first Maasai Community Sanitation Station in August 2019.
The Maasai Community Sanitation Station design evolved over one year of planning with the Maasai community members to carefully consider the social, environmental and economic factors important to the Maasai people. The result is a culturally appropriate and eco-conscious design utilizing Maasai indigenous wisdom. The simple innovative design includes a solar-heated community shower and a hand/clothes washing station. In a drought-ridden area where every drop of water counts and food is scarce, this thoughtful design incorporates a leach field for water reclamation to grow fruit trees.
It's Easy for the Community to Build with Local Natural Materials
All Maasai traditional designs relate to nature. They incorporate nature-based technologies and natural resources to construct their homes. As a result, our team decided to use the local natural materials to construct the sanitation station, utilizing volcanic rocks from the foothills of Mount Kilimanjaro. The volcanic rocks are a free resource found on the ground allowing us to reduce the cost of materials and create a design that blends in with the natural environment.
The Maasai community is very pleased with the innovative design. The design is simple to construct requiring few tools, allowing the community to take full ownership and all ages participate by collecting the rocks. Its modern structure catches your eye and creates a curiosity that has inspired hundreds of Maasai community members, who have never taken a shower, to try it out.
"The water sanitation facility project has demonstrated that inclusive innovation can result in a superior, culturally sensitive, cost effective, sustainable design. My perspective on innovation has been profoundly changed by working alongside the Maasai in this design."
~ Mike James, ASU GlobalResolve
Sanitation Facilities are Urgently Needed to Prevent the Spread of Diseases
Today's coronavirus (COVID-19) global pandemic brings into focus how critical access to clean water and sanitation facilities is essential to prevent the spread of diseases, including COVID-19. The spread of this virus poses a serious health threat to the Maasai people who already experience little to no access to healthcare, sanitation facilities, clean water, and soap. With the government imposing restricted movement, curfews, and lockdowns in major cities, many city dwellers are quickly moving to the remote areas where the Maasai live, causing a health risk to the Maasai communities to become exposed.
MCV is working diligently to install clean water, community sanitation stations, hand-washing supplies, and sanitation training to help save lives and improve the overall healthcare in rural Maasai communities.
"I love our community shower. Previously, we used to bathe behind the bushes near the springs. Water contamination, cleanliness, and privacy used to be a major challenge. Now I bathe daily."
~ David Matampash
Will You Help Save Lives?
Our goal is to build 10 community sanitation stations in Maasai communities. With your support, the completion of each Community Sanitation Station will greatly improve the overall health of the Maasai people.  Please give generously today and help save lives!
Build 10 Maasai Community Sanitation Stations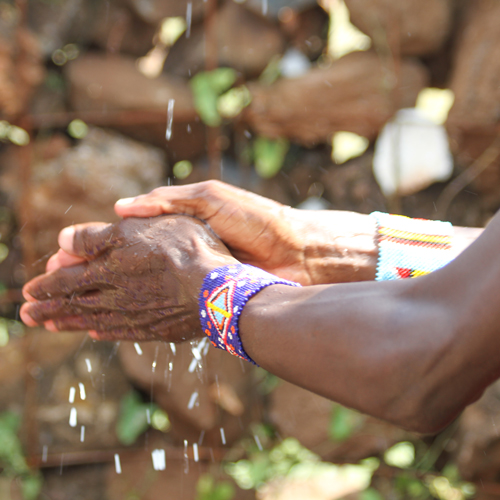 Give Generously & Save Lives!