Tap into the life of the Maasai on a service learning adventure to Kenya, Africa. During your trip, you will reside in Amboseli at the foothills of Mount Kilimanjaro to discover the Maasai way of life and support MCV's humanitarian programs. This unique experience in Maasailand is the only opportunity to empower local Maasai communities, enjoy a wildlife safari, and safeguard Maasai heritage.
During our next trip on November 23-30, 2020 you will be able to participate in our upcoming humanitarian programs to improve the lives of Maasai families through various service-learning activities. You will also have the unique opportunity to learn from cultural educational workshops, each day we will have various topics presented by Maasai cultural leaders. Program details regarding each humanitarian activity will be provided once you sign up or you can call our headquarters for specific details on the dates you selected, please note ages 10 and up can participate with an adult.
You won't want to miss this rare opportunity to learn from the Maasai cultural leaders and empower Maasai communities.
Improve Maasai Communities  

Build a Maasai Cultural Heritage Museum

Hands-on Cultural 

Education 

Workshops

 Visit

 Maasai Sacred Sites
See African Wildlife on

Safari in Amboseli National Park

Breathtaking Views Mount Kilimanjaro

 

Learn About Maasai Cultural Conservation 

Participate in Humanitarian Work to Improve Lives
Arrive at Jomo Kenyatta Airport in Nairobi, Kenya. MCV will provide airport transfers to the Eka hotel in Nairobi. Guests will check in to EKA hotel. Meals will be provided. All guests will attend a welcome reception in the evening to discuss program activities and meet the team members. MCV will provide an introduction on the social and cultural customs of the Maasai to prepare for the journey.
Eka Hotel rooms are designed to provide the highest levels of comfort and offers dining at its best with the freshest favors of locally sourced produce. Guests staying in the Hotel have exclusive access to the gym and swimming pool. We thank EKA for their CSR partnership in providing humanitarian services to the Maasai people.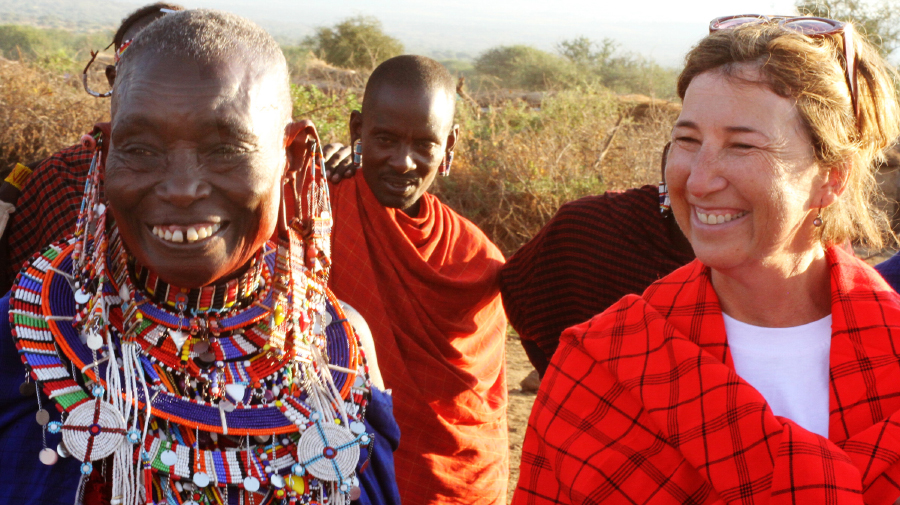 Team Introductions – Meet New Friends

Learn Maasai Cultural Customs

Learn Basic Maasai Phrases To Speak In Maasailand
After breakfast, we will depart Nairobi to Amboseli at the foothills of Mount Kilimanjaro to visit the warrior's manyatta (homestead) and home of the Maasai chief.  Experience a traditional Maasai greeting. Participate or observe authentic Maasai tribal dances to learn traditional songs and dances passed down through generations. In this ceremony, everyone can join in the celebration. Enjoy establishing friendships with the community members where we will be working throughout the week.
In the evening we will check into luxury safari lodge, situated in Amboseli National Park where we will be staying for 7 nights.  The Lodge offers spacious accommodations with views of the animal water pools and Mount Kilimanjaro. Guests can unwind with a selection of massage treatments available upon request or enjoy a refreshing swim and relax on the poolside lounger. Buffet and à la carte dishes are served at the restaurant offering various cuisines to suit every guest's taste (including vegetarian options). Enjoy breakfast and dinner buffets during designated hours. We will have packed lunches in the field and optional traditional Maasai barbecues.
The Amboseli lodge provides our volunteers with exception service and assists in serving Maasai communities, including employing the local Maasai.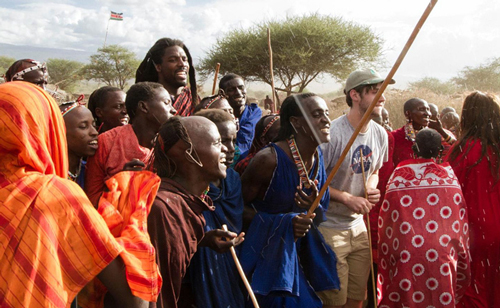 Visit Maasai Warriors Homestead

Experience Maasai Traditional Greeting

Experience Maasai Traditional dances & songs

Meet the Maasai Community
Enjoy 5 days of service-learning at important cultural sites for the Maasai people in the breathtaking landscape of Mount Kilimanjaro and the elephant migration corridor of Amboseli. You will participate in hands-on activities to improve the lives of the Maasai community and work with the Maasai community members on various projects that may include remodeling our Maasai Cultural Heritage Museum to safeguard Maasai heritage, renovating Maasai traditional homes, installing smoke-free stoves to improve families health, installing a clean water and sanitation system, and more. If you have a specific expertise or a program that you want to implement, please contact our headquarters to share your ideas and expertise.
The Maasai leaders will provide cultural talks and workshops to teach about the life of the Maasai and their ancient traditional knowledge with the aim of developing an awareness and appreciation for the Maasai heritage. You may also have the once in a lifetime opportunity to participate in Maasai ceremonies. This will be a life-changing week for you and the Maasai people, participants gain a sense of fulfillment in their service and a deeper understanding of our global community and the Maasai indigenous knowledge.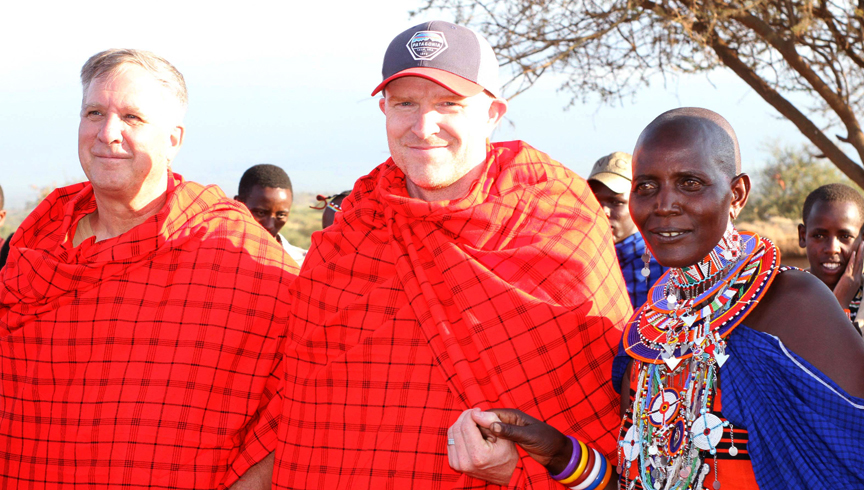 Participate in MCV Humanitarian Programs

Participate in Cultural Lectures & Workshops

Work with the local leaders at the Maasai Cultural Heritage Museum and Learning Center

Work Side-By-Side With Maasai Community Members To Improve Lives
Enjoy a safari in Amboseli National Park with a game drive where you will see the breathtaking wildlife of the park. The name "Amboseli" comes from a Maasai word meaning "salty dust", and it is one of the best places in Africa to view large herds of elephants up close. The park is crowned by Mount Kilimanjaro, Africa's highest peak, and is one of Kenya's most popular parks.  Nature lovers can explore five different habitats here ranging from the dried-up bed of Lake Amboseli, wetlands with sulfur springs, the savannah, and woodlands.  Amboseli is known for the following wildlife: leopard, cheetah, wild dogs, buffalo, elephant, giraffe, zebra, lion, crocodile, mongoose, hyrax, dik-dik, lesser kudu, and nocturnal porcupine and over 600 species of birdlife.
You will also enjoy a cultural lecture from one of the leaders of Olgulului Ololarashi Group Ranch (OOGR) one of the last remaining lands for the Maasai that has not been subdivided and the home base for MCV programs. You will learn how the Maasai and wildlife co-exist and depend on one another for survival.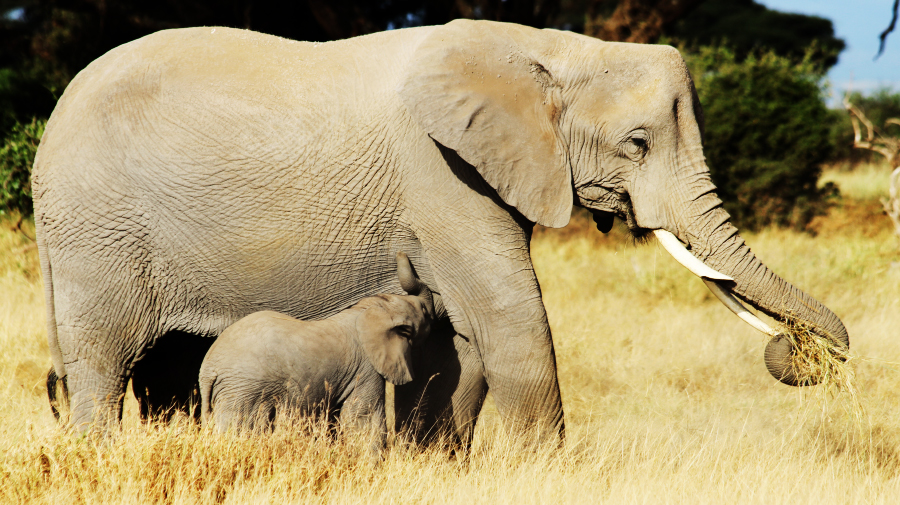 Enjoy Safari In Amboseli National Park

View Large Herds of Elephants Up Close

Learn How the Maasai and Wildlife Co-Exist

Breathtaking Sights of Mount Kilimanjaro

See African Wildlife in its Natural Environment
After breakfast depart Amboseli to Nairobi for departure. All flights should be scheduled in the evening at Jomo Kenyatta Airport. On the way to Nairobi we will visit Maasai artists for optional purchases of local handicrafts before departure.
Visit Maasai Local Shop to Buy Handicrafts
Visit a Maasai cave and learn the history of various caves for the Maasai communities. The warriors faced numerous challenges and when they felt discouraged, they conducted rituals to re-energize themselves. The caves are covered with natural herbs that are used in treating various diseases and wounds. Caves were also used as treatment areas for injured warriors as they undergo treatment. The Maasai have used caves as homes, churches, holy shrines for prayers and to hide their families and cattle during colonial rule and tribal wars.
Visit and learn the history of the cave

See the wild fruits and herbs around the cave used for healing

Learn about the efforts of environmental conservation to protect these important caves

Learn about the Maasai traditional knowledge of plant medicine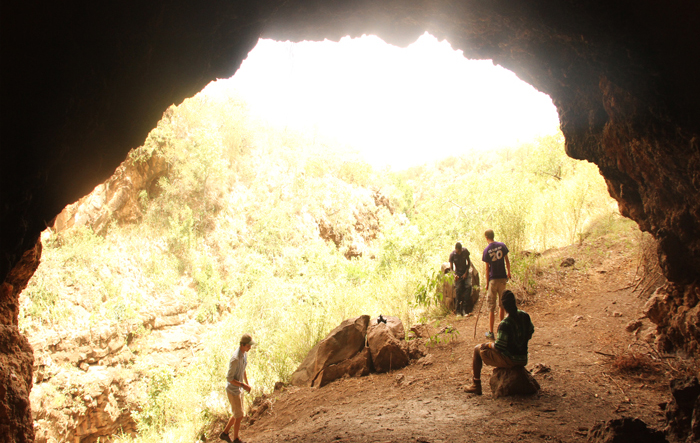 Meals Included:
All breakfasts, lunches, dinners are included.
*Optional to bring an additional $100-150 for additional snacks or beverages (Alcoholic beverages not included in MCV meal package).
Transportation:
8-Seater Safari Van
All Transportation including arrival transfer, transportation between all destinations and to/from all activities and workshops as listed in the itinerary.
Lodging Accommodations:
MCV guests will enjoy a comfortable luxury tented camp located at the border of Amboseli National Park. Guests will have excellent accommodation and services where you can watch elephants with the snow-capped Kilimanjaro as the background.
Luxury Tented Camps Include:
Rooms with private bath and hot shower

view of Mt. Kilimanjaro

Free WiFi at selected times and areas  

24 hour security

Restaurant and Bar

Swimming Pool
Room Sharing:
If traveling as a family, accommodations will be made to ensure family members are together in the lodge.  If coming as an individual or in a group, we will make every attempt to organize participants as desired.  Please make your requests in your application.  If no requested are made, participants are placed according to gender.
Your Trip Changes Lives & Empowers Maasai Communities
Package Price:
8 Nights: $3,000 / person 
Your support funds our humanitarian programs to empower local communities through our non-profit organization and employees the local Maasai people.
We have limited registration due to high demand. Subject to availability, first come, first serve of total paid registration will have priority.
Included in Package:
Lodging

All Meals

Transportation

Guides

Service Learning Programs

Cultural Workshops

Safari in Amboseli National Park
Not Included:
Airfare to Nairobi
Entry Visa
Register Today, Click on the Button Below 
If you have a group of 5 or more people, call us and we can arrange a custom trip for your group on the dates best for you!
Discounts may be available for large groups upon request.
If you have any questions or need assistance registering, please call#844-628-1414 or email: hq@mychosenvessels.com.