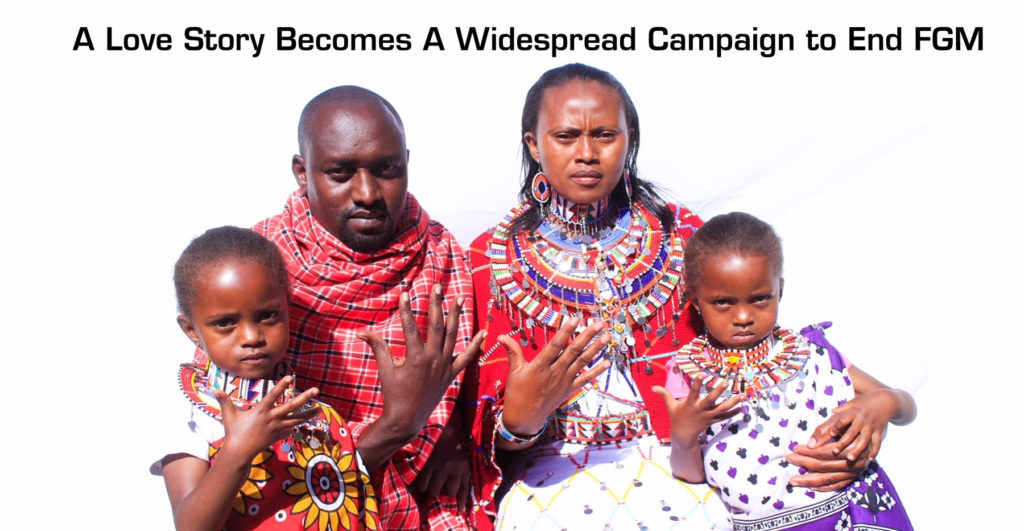 Parsanka's family proudly supports Melinda Gates' Campaign #VowForGirls with a family photograph showing their ring finger vowing to eliminate FGM & child marriages.
'My decision not to marry a cut girl saved my wife from the cut,' Revealed Parsanka Sayianka, MCV Program Coordinator on Indigenous Rights.
Parsanka Sayianka was born in Elangatta Olkaputiei, a remote village in Kajiado South, Kenya. He is the second born of twelve children. His father had two wives, his mother being the first wife. While growing up, FGM was a normal practice to him, there was no law prohibiting it. Deep inside himself, he felt it was an immoral practice that his community embraced. He would witness girls from neighboring communities attending school and excelling in education, while girls from his village were unable to dream – they would get cut and married off at very young ages. He secretly vowed to save these girls in future, once he had the ability to end FGM.
Parsanka grew up in a wealthy family (his father owned a fleet of livestock) yet he failed to understand why they didn't have adequate food, they dressed poorly, and his father never believed in education. His widowed neighbor who was regarded as poor (didn't have any livestock) yet they lived a contrasting lifestyle to theirs. Why? He later on understood the puzzle!
"My 'rich' family resources were controlled by a man, and the 'poor' family resources were controlled by a woman.
I came to understand that women can make better choices in the home if given a chance and resources." ~ Parsanka
Among his siblings, Parsanka was lucky to pursue an education thanks to his elite uncle who came to pick him at four years old to go to Nairobi, Kenya's Capital, to teach him Maasai language. He interacted well with his cousins and after some time, he was enrolled to a primary school together with his cousins. After a few years, his father came back for him for he believed his son would lose his culture.
Parsanka loved school, he begged his parents to enroll him back to school. His mother persuaded his father and he eventually agreed. The only nearby school, Olchoro Primary School, was 10 km away, the poor boy trekked for hours to and from school sometimes compelling him to sleep at a friends place whenever he was too tired to make it home.
He performed quite well in school, and it really impressed his parents such that they quickly agreed to sell livestock to enroll him to a nearby secondary school. He went to Oloitoktok secondary school and in no time he was emerged as the top student and the only learned boy from his whole village. He juggled between being a student during the day and a Moran (Maasai warrior) at night. Nevertheless, being a Moran taught him great values such as respect, responsibility, maturity, cultural principles and traditional knowledge from his elders that have made him succeed throughout his life.
Before enrolling into college, Parsanka had turned down 6 girls, 6 marriages for that matter. Every time he refused a girl, his father would part with a goat as compensation. At some point, his father got very angry for depleting his goats and vowed not to consult him anymore but impose a wife on him. He would one day on his return home to find a wife in his Manyatta (homestead)! In his community girls are given as a reward and exchanged for cows. Parsanka being a disciplined and intelligent boy attracted many females whose parents not only wanted to marry to into a rich family but also a smart boy.
He soon enrolled into Multi Media University, then Kenya College of Communications Technology (KCCT) where he pursued telecommunication engineering, still being the only boy to have set foot into a secondary school and a university in his village. He graduated college in three years and began volunteering for an organization to empower women called 'Wings for Earth' in Noomayianat village, Loitoktok.
Parsanka had now come of age to get married and apparently it was getting too late not to be married according to his culture. He still stood firm to his decision not to marry a cut girl. He believed that cutting a girl, besides the physical and psychological effects of the cut, was also violating her pleasure for sex at the expense of a man's foolish reasons that it will keep her sexual urge low so that she remains faithful. He saw it as very selfish act and refused to support the practice.
He had definitely set his bar very high. At that time it was impossible to find such a girl to marry especially from his community for he really wanted to marry from his community.
His life took a turn when he met a beautiful Samburu girl from Marsabit (Rendile) who was interning as a banker in Nairobi. He developed an interest for her and immediately started dating her. Josephine Ntumarin was not cut. Bingo! Perfect match! He knew she was meant for him and he was undoubtedly going to marry her!
After one year of dating, Parsanka introduced her to his parents, he was given consent to go ahead and marry her, after all, he was way too late not to have married. Now it was Josephine's turn to introduce him to her parents. Her parents right away loved Parsanka and gave him consent to have their daughter. Josephine's father remembered her words; that she would marry at the right time. He was very proud of her! A goat was slaughtered as a sign of acceptance. That very night, Parsanka proposed to her queen with what he considers a very expensive gold ring – that he had bought during his trip to Europe -in a Manyatta where he was to sleep.
Before dowry negotiation between the two families could begin, it was mandatory that Josephine undergoes the cut; first as a tradition and second as a prerequisite for marriage.
Earlier before the lovebirds had agreed to get married, Parsanka had made it clear to Josephine that he will not allow her to undergo the cut. That he loved her the way she was and would fight the 'stupid' tradition to ensure that she remains safe.
Josephine had narrowly escaped the cut in the past since she was in school and whenever schools closed she chose to stay at her uncles' place in Nairobi. Her brother too was opposed to having her married. He had turned down two marriage proposals persuading his father to let her complete school. Her brother was her keeper. He paid her tuition fees and constantly protected her. She, on the other hand, worked very hard not to disappoint him.
The tussle began during the first visit to her home when Josephine uttered the 'stupid' words; 'Mom, I will not undergo the cut!' Her mother thought she was teasing. She repeated again and again. It was now clear to her mother's ears that she meant it. How could she? Coming from a community that practices FGM, it was impossible, it was unheard of. How will her father welcome the news? 'Your father will not accept it! Period!' Warned her mother. Their visit had brought both good and bad news!
They traveled back awkwardly hardly conversing. They both wanted to be role models in both of their communities. Parsanka reached out to Josephine's brother to convince his father about her sister's decision but nothing yielded. It only worsened family relationships. 'It became so complex!' recalled Parsanka. Josephines' brother quit talking and told them he can only wish them the best.
Parsanka and her fiancée were left with one option; to do away with traditional marriage and marry the civil way, but this meant cutting links with both families. Which would have been very wrong, this option was impractical.
They sought to go back to Josephines' home and agree to the requirement that can only bind them together but by coy about it by convincing the circumciser to cut Josephine's thigh so that the blood that drops convinces the parents that she had gone through the cut! On arrival, he met the circumciser awaiting Josephine. The circumciser begged Parsanka to allow her to perform the rightful cultural procedure and stop embarrassing his father-in-law who was a respected member in the community. She refused to adhere to his tricks and feared for her life! She could only perform the real cut nothing else!
At this point Josephine's mother was depressed, she could not eat, she developed ulcers and was in no talking terms with her husband. The stubborn lovebirds returned to the city to think of another smart way out. They were withdrawn, they had lost so much weight and the situation was putting so much pressure on their relationship.
Parsanka thought of bringing his parents to negotiate dowry where he would quickly pay dowry and take off with his wife. Once Josephine's father accepted dowry it would automatically mean he had rightfully given off his daughter. He therefore set off to bring his father and a couple of elders to meet Josephine's father. While on their way, Parsanka broke to them the news about him marrying Josephine who hadn't gone through the cut and that they should support him before his father-in-law when he brings it up during their negotiations.
Hell broke loose! Parsanka's father was very furious for having been fooled. All this time it had never occurred to him that his daughter-in-law to be was uncut! To him, she was an outcast and would never set foot in his compound again. The village elders were very furious that Parsanka had wasted their time and that he had become insane! They both threatened to cut off their journey. They could not be part of Parsanka's meritocracy. How could they negotiate dowry of an uncut girl?!
He convinced them to proceed with the journey and stick to the main agenda which was dowry negotiation. The rest he would handle. After many hours of persuasion they agreed, in addition, the elders did not want to embarrass themselves by going back home after they had packed bags and bragged to their wives about their trip.
They made it to Josephine's home the following day. Dowry negotiation went perfectly. As the negotiations came to a close, Josephine's father stood up and made it clear that the girl had to undergo the cut. It was taboo, the ritual was important to him more than the dowry. He requested Parsanka to stand up and admit before the elders that he would allow his wife-to-be to observe the tradition. Parsanka stood up and explained how education had changed their view about many things including retrogressive cultures.
He did not move them a single bit. They stayed firm to their decision. 'Josephine must be cut!' reinforced her father. Well, the tricky Parsanka convinced them that with both their work schedules Josephine could only be cut during her leave days since healing takes almost three weeks. They agreed to plan for leave (before their soon to be wedding) where both of them would be free to take care of each other but meanwhile, they were going to settle the bride price.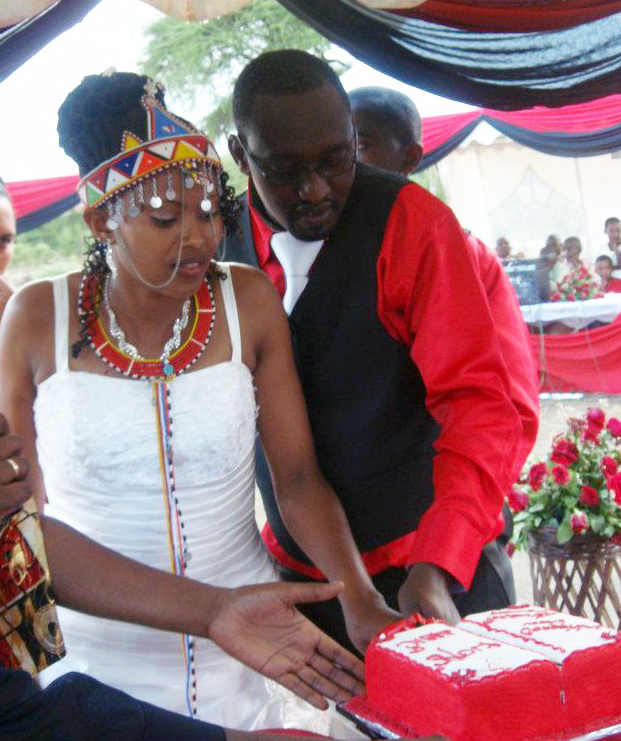 As soon as Parsanka was done with settling the bride price. He started planning for the wedding and now said that the cut would take place after the wedding. Haha, Parsanka must be a big joker! Well, Josephine's father declined to have the wedding ceremony of her uncut daughter carried out on his soil in Marsabit. It would put him to lifelong embarrassment. As a matter of fact, he denounced her and threatened to curse her. She was her favorite child but she had put him through enough shame compelling him to leave the village and move to his second wife's home far away.
Parsanka and Josephine planned their wedding to take place in Loitoktok, Parsanka's current home. They planned everything and even sent out invitation cards. Both Josephine's parents and Parsanka's parents declined attendance.
It took an extreme family intervention to convince them to show up for the wedding and that the cut would come afterward. They agreed though half-heartedly.
The wedding was the biggest ever to take place in that village. The parents were given royal treatment and they were finally married! 
Five years later, Josephine and Parsanka are celebrating their strong beautiful marriage and the birth of their two beautiful daughters whom of course will not undergo the cut. Both families have come to terms with the couples decision not to ever pursue the outdated tradition. The parents have stopped bothering them anymore or thinking about it – in fact, the two have grown to be their parents' favorite children.
Parsanka continues to work passionately to protect Maasai rights.  Thanks to the success of Parsanka's Anti-FGM advocacy, Kajiado County Government in Kenya has developed a policy at the county level to end FGM titled "Kajiado County Anti-FGM Policy." Parsanka began developing this policy in 2016 and in October 2018 this policy has been officially adopted. MCV celebrates this milestone, yet we recognize we have a long road ahead of us in protecting the rights of the Maasai people.
With your support, Parsanka will continue to protect girls rights on the village level as well as national and international.  Through MCV's consultative status with the United Nations Economic and Social Council (ECOSOC), we will defend the rights of the Maasai indigenous peoples at the UN forums to increase awareness of Maasai human rights violations. We will also implement community dialogues and workshops to educate the Maasai on strategies to advocate for their rights using the United Nations Declaration on the Rights of Indigenous Peoples (UNDRIP). In 2019 we will provocatively defend the rights that are essential for mitigating climate change and safeguarding Maasai traditional knowledge systems for the survival of the Maasai people.
Protect Maasai Rights Today